Well, you've found them! If you are wanting to learn the piano or keyboard but don't have the time or money to commit to private lessons, you'll find the piano lesson reviews on this site an invaluable resource.
Learning to play the piano from the comfort of your own home is a very rewarding experience. On this site, we take a look at the very best (and worst) in online piano lessons available on the internet. We've written detailed lessons reviews so you'll have all the information you need to make smart, informed decisions. We encourage you to read our full reviews for any piano course you're interested in.
Feel free to bookmark this site if you want to come back at a later time. We wish you all the best as you start on your journey in becoming a master pianist. Have fun! And now...
Our Top Online Piano Lesson Reviews of 2012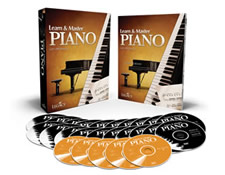 Learn and Master Piano
Rating: (Editor's Choice for DVD-Based Lessons)
Published By: Legacy Learning Systems, Will Barrow
Website: www.LearnandMaster.com/Piano
Pricing: $119-149 ( on now)
For Skill Levels: Beginner-Intermediate, Kids
Product Website
Read Review
Released early December of 2007 by Legacy Learning Systems, one of the top music education companies in North America, Learn and Master Piano immediately became one of the world's most complete piano DVD courses every produced. We were simply blown away by the production quality of Learn and Master Piano.
If you are any kind of a visual learner, the Learn and Master Piano DVD course will interest you greatly. The course itself is amazingly produced, and includes 14 professionally mastered DVDs, 5 Play Along CDs, as well as a 100+ lesson book that guides you through everything you see in the course.
The Learn and Master Piano lessons are taught by the award-winning, Grammy recording artist Will Barrow. Will Barrow's impressive résumé includes playing with many big name artists such as Hubert Laws, R&B singer Freda Payne, rock legend Wanda Jackson, country singers Suzy Bogguss, the Gatlin Brothers and many others. A great choice for a guide to lead you through...
Read Full Learn and Master Piano Review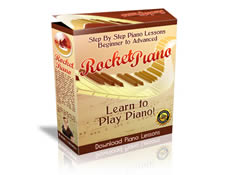 Rocket Piano
Rating: (Editor's Choice for Downloadable Piano Lessons)
Published By: Rock Star Recipes, Ruth Searle
Website: www.RocketPiano.com
Pricing: $39.95
For Skill Levels: Beginner-Intermediate
Product Website
Read Review
From the makers of the incredibly popular guitar course Jamorama, Rocket Piano has become one of the top downloadable learn piano course on the internet. The course covers many different keyboard styles, including jazz and gospel.
Rocket Piano will take you from a completely non-musical newbie and give you the information and skill you need to become a good intermediate pianist. Rocket Piano's unique teaching methods reduces the steep learning curve that can be a problem with other methods of learning the piano or keyboard.
Your Rocket Piano lessons are guided by Australian Ruth Searle, who has more than 15 years of piano experience, a Bachelor of Arts in her résumé, and really knows her stuff when it comes to the piano.
Rocket Piano takes things slowly and thoroughly, thereby reducing the steep learning curve new pianists face, and making learning the piano a much more enjoyable experience. This eBook course also comes with some decent music games software and other bonuses to keep things engaging. After all, the easiest way to learn piano is by making learning fun and interesting!
Read Full Rocket Piano Review
Reviews Summary
At the top right of this page, you can see a complete listing of all the piano lesson software reviews on our site.
Our Editor's Choices: Learn and Master Piano is our top choice overall, as well as the best DVD piano course on the market. We have never seen such a comprehensive piano lesson package before. If you can't afford in-person piano lessons because of the cost, you won't find a better solution than Learn and Master Piano. True it is more expensive than other piano courses, but no other package is this comprehensive. Read our full Learn and Master Piano Review for more details. The popular Rocket Piano course on the other hand, came out on top in our low-cost category as well as our downloadable course category. It outperformed many higher-priced lessons such as Mr. Ron's Music Piano course. If you are on a budget or want to get computer-based piano lessons, this is your best bet.
Other Piano Software Products:
We also reviewed several other piano courses and software that unfortunately didn't make our short list of recommended piano lessons. It's not uncommon for you to see these other courses promoted on other websites, so it's good to realize that other website owners usually have advertising arrangements with these course owners.
In general, we were disappointed with what other piano products offered. Most of the courses we ranked 3-5 lacked substantial multimedia elements, were shoddily put together, and didn't have much to offer in terms of lessons. We would advise you skip over these courses for one of our editor's picks.
Recent Piano/Keyboard Articles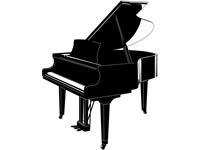 Digital Piano vs. Acoustic Piano
What are the differences and which one should you choose?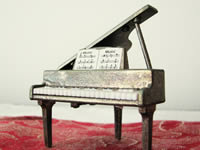 Taking Care of Your Piano
First time piano owner? Find out how to best take care of your instrument...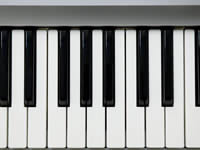 How to Purchase a Keyboard
Explains what to look for when buying a keyboard.
Disclaimer Notice
As an independent, unbiased product review site, we take great pride in the integrity of our editorial reviews. In the interest of full disclosure we want our readers to know that we do receive review copies of all products and services we write about on this site. We also do receive commission on some, but not all product we review on this site. Please rest assured that we do not allow this to get in the way of our editorial process.
We also want to point out that we do not accept paid reviews as we wish to maintain an unbiased perspective. Finally, we do not have a personal interest in any of the products we've reviewed and are not owned by any company whose products appear on this site. Thank-you for reading!