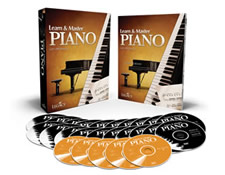 Learn and Master Piano
Rating: (Editor's Choice for DVD Piano Lessons)
Published By: Legacy Learning Systems, Will Barrow
Website: www.LearnAndMaster.com/Piano
Pricing: $149 ( on now!)
For Skill Levels: Beginner-Intermediate, Kids
Official Website
Released early December of 2007 by Legacy Learning Systems, one of the top music education companies in North America, Learn and Master Piano immediately became one of the world's most complete piano DVD courses every produced. We were simply blown away by the production quality of Learn and Master Piano.
If you are any kind of a visual learner, the Learn and Master Piano DVD course will interest you greatly. The course itself is amazingly produced, and includes 20 professionally mastered DVDs, 5 Play Along CDs, as well as a 100+ lesson book that guides you through everything you see in the course.
The Learn and Master Piano lessons are taught by the award-winning, Grammy recording artist Will Barrow. Will Barrow's impressive résumé includes playing with many big name artists such as Hubert Laws, R&B singer Freda Payne, rock legend Wanda Jackson, country singers Suzy Bogguss, the Gatlin Brothers and many others. A great choice for a guide to lead you through your journey on the piano.
Coupons

Learn and Master Piano Sale
Sale Details: Learn and Master Piano is currently holding their and discounting their award-winning piano course by $100 for the duration of the event!
Screenshots
Here are a few actual screenshots from the Learn and Master Piano DVD course.
Features
The Learn and Master Piano course comes with a whopping 25 training disks, and an accompaniment lesson book which you can use when not watching the lessons on your TV or computer.
20 of the disks are DVDs, which contain 2 teaching sessions apiece combining for 28 lessons in all. The videos are professionally shot and produced and contain some helpful learning tools and visual aids such as the virtual keyboard which illuminates the keys when struck, so you can see exactly which notes Will is playing at all times.
The other 5 disks in the course are Jam Along CDs, that contain full band accompaniment on all the songs and audio presented in the DVDs. They are all professionally mastered and composed. One really great feature with the jam along CDs is that you can play along with or without the piano accompaniment, so you can play solo with the band when you feel you are ready.
Learn and Master Piano works well with a wide audience. The makers of the course do state that the course was not designed for children with small hands but that those 13 years or older should be able to manage the course well. Along those notes, very recently a new edition of this course was released: Learn and Master Piano Student Edition. This course includes everything in the regular edition but adds a resource DVD, a 68-page teacher guide, and a 2-year outline for parents to help guide their children through. This new edition really adds to Learn and Master Piano's appeal as a home study guide for homeschoolers.
Support
Learn and Master Piano has multiple contact options, including a members support forum, as well as email and phone support. The member's forum and online community is a great place to ask lesson related questions and also contains supplemental material not included in the DVD course.
Ease of Use
The course is well organized in a very easy-to-follow manner. It includes an accompaniment lesson book, which contains all the examples, exercises, and songs you will play. Will Barrow's teaching style is concise, thorough, and easy to understand. We also appreciated that all lesson menus within each DVD is neatly laid out for easy viewing access. We had no problems whatsoever using the course material.
Guarantee
Learn and Master Piano comes with the assurance of a 60 day, full money back guarantee. In other words, you have nothing to lose if you want to try Learn and Master Piano out, and believe us, you'll want to take a look at this!
Price
Despite being the most expensive piano course we reviewed, we believe Learn and Master Piano has incredible value. This course is just like having your own private piano lessons, but at a fraction of the cost!
If you are on a really tight budget however, but still want something to help you get going on the piano, you may want to take a look at our top pick for downloadable piano lessons, Rocket Piano.
Learn and Master Piano accepts both Visa and Mastercard on their site.
Conclusion
If there was only one learn piano product we could recommend to you, it would be Learn and Master Piano. Their course quality is unmatched and works well for learners of all ages! If you are serious at all about learning and excelling on the piano and want a DVD piano course to help get you there, there is simply none better than Learn and Master Piano! Highly recommended.
Official Website
More Piano Courses